Merry Christmas and Happy Holidays!
...and an interview with Nock's Nicolas Santos
'tis the season! I wanted to get one more newsletter out before the holidays got here, given all of us are going to be running around as busy as can be. First and foremost, our (third annual) Christmas cards have been mailed out! If you haven't gotten them yet, you should be receiving them shortly so be sure to tag Lunchroom Riot (@lunchroomriot) and I (@adambarnhardt) on social media once you get them!
Second, thank you so, so very much for keep up with us throughout the year. We're eternally grateful for each and everyone of you and hope you stick with us through 2023 as it's going to be our busiest year yet! If you want to see what's in store for '23 (and beyond!), check out this recent interview I did with Murphy's Multiverse's Hunter Radesi, complete with a picture from the middle of the pandemic with my luscious pandemic hair.
Beginning in the New Year, this newsletter will have a regular schedule, including a monthly interview with various Lunchroom Riot artists and creators, giving you an insight on their development and artistic process. That's not to forget the short stories of both the prose and sequential variety. We already have a couple sequential shorts in the works and I'll be sharing the first prose short in just a few weeks.
But without further ado, let's hop into our first interview and sit down with Nicolas Santos, the artist bringing Nock to life.
What's your earliest memory with comics?
Most of kids here in Brazil usually get in touch with a comic called Turma da Mônica (some thing like Monica and Friends in English), so probably that and the Disney comics were my first contact with comic magazines. The earliest concrete memory I can recall would be Senninha, which was a comic magazine for kids using a child version of Brazillian F1 driver Ayrton Senna as the protagonist. I loved cars and races when I was a kid, so that was my favorite. I still watch F1 races on the TV, by the way!
I remember that Senninha had a website and one of the sections was a simple "How to make your own comics," and I loved that. Sometime later I got in touch with manga and superhero comics, and at that point, there was no way back, I started dreaming about doing my own comics as a professional.
Do you remember your first superhero comic?
I can remember some Star Wars and X-Men comics always around my room, but it is a pretty blurry memory.
Is there a certain artist (or artists) that inspired you to pursue your art passions?
A lot of artists inspire me through their work, some of which mark specific times in my life such as Takeshi Obata, when I first discovered manga or Jim Lee when I started with super heroes. Sean Murphy blew my mind when I first saw his work with Punk Rock Jesus. Some Brasillians I can name as well are RB Silva and Eduardo Ferigato which I had the pleasure to meet and have nice conversations in some conventions here in Brazil.
What type, tone, or genre of story interests you most?
I usually like a somber tone like thriller, horror, and drama, but I have a good times with sci-fi and even comedy as well.
What's your favorite horror movie or show? What about comic?
For the movie I think it would be the original Halloween from 1978, but Alien and The Thing are always in my heart as well. For comics, I love Junji Ito's work, but I also love reading Dylan Dog stories.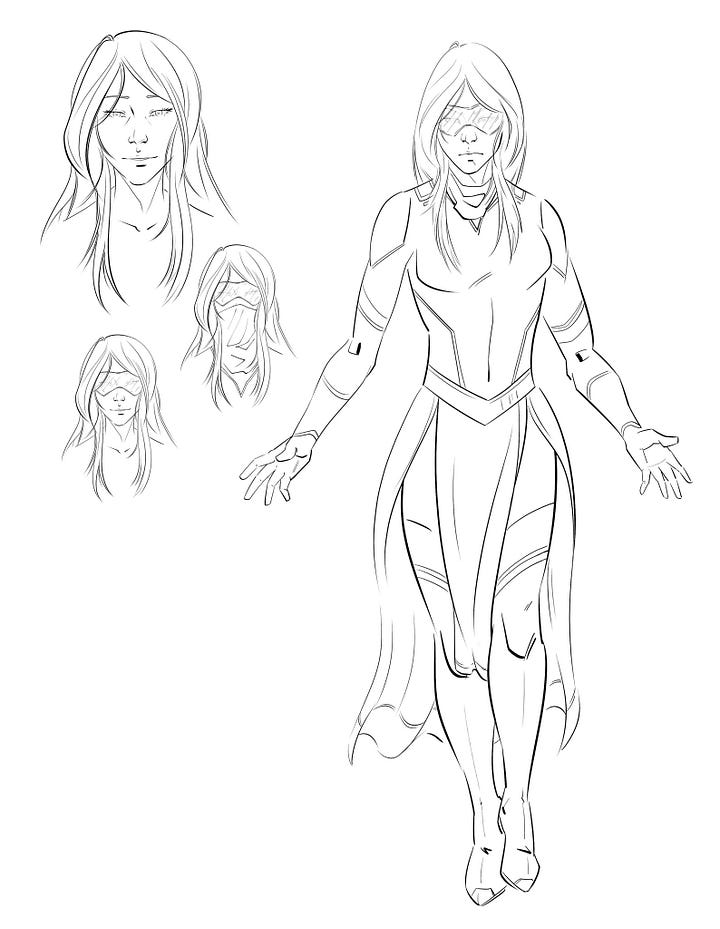 When you were first approached about Nock, what drew you to the story?
The character, for sure. Nock is not a perfect hero; he has flaws and fears, that depth is perfect, and an urban hero like an archer is the type of hero I like to draw.
When it comes to John Nock, he consistently battles over what it means to be a hero. In your own definition, what is a hero to you?
I think when it comes to the question "what is a hero," the image of something like Superman comes to our minds, a perfect person with great power to solve big problems. But of course, that does not feel real. If it is too perfect it can not communicate well with us. A real hero to me would be a person that indeed has flaws and weaknesses as well, a person that feels fear, anger, but also has moments of happiness and joy, and despite the bad things still tries to fight for something good, not just for themselves, but for the others as well.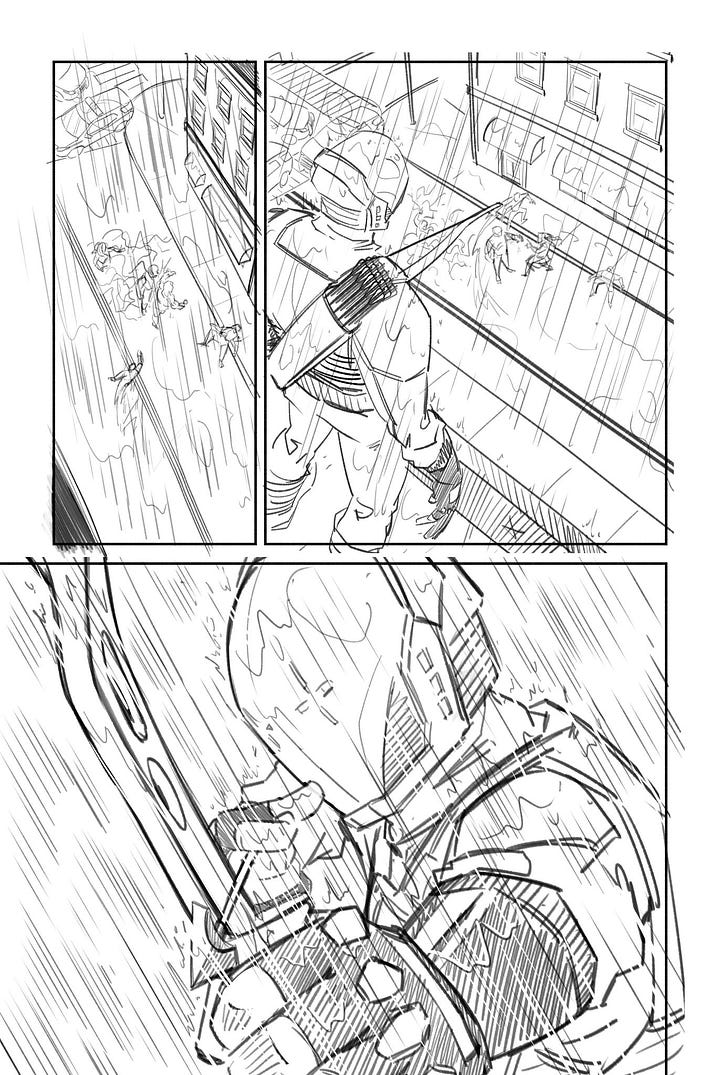 When it comes to tackling a page, what do you do to get ready? Do you have a set playlist for each project you're working on? Are you working digitally or with ink and board?
Nowadays I work mixing traditional and digital techniques. Pencils are usually done digitally, then I print it out in a light blue color and work on it with ink, pens, and brushes. Before getting into the drawing I like to set something to listen. It can be anything really from music to some art related video playlist, or even a movie or show, it kind of makes me "isolate the ambient" from the other things I need to do in life.
What's your dream comics gig? Is there any certain writer or character you'd love to work with?
If I had to choose a character, I'd love to be the artist for Dylan Dog. But if I had the chance to do any thing, I would simply love to do some noir story with Ed Brubaker. We all can have some dreams right?