Final cover reveals are here!
Pre-orders for Nock #1 launch January 3rd
Now that the artwork for our incentive has been finalized, I figured it was time to shoot out one last Nock update before we get into the swing of things. In addition to the regular covers we shared earlier this month, there will be two incentives: a 1:10 variant from Nicholas Malara and a 1:25 from Kim Jacinto.
Malara's take on our characters shows Nock facing off against the Bagface butcher in a mid-century retro feel that is undeniably vintage.
Then comes the 1:25 variant courtesy of Marvel and DC superstar Kim Jacinto. Kim's been one of my favorite artists since his earliest work and I'm thrilled he agreed to work on something for Nock #1. His kinetic style is perfect for the story we're telling and his cover reflects the tale perfectly.
While both of these covers are incentives on the retailer front, both will be available for pre-order on the Lunchroom Riot website when those launch. Speaking of which, pre-orders for all Nock #1 covers will go live on the website January 3rd.
---
Even though pre-sales on virtually all Nock covers don't go live until January, there are a few covers you can pre-order now! Our friends at GammaBase Auctions are doing a store exclusive cover for Nock #1, and they launched their pre-orders this week for two versions: one with trade dress, and one without.
Drawn by Chris Gugliotti, the GammaBase store exclusive features Bagface in an homage to the original Texas Chainsaw Massacre movie poster.
You can pre-order your GammaBase exclusives in their Facebook group here.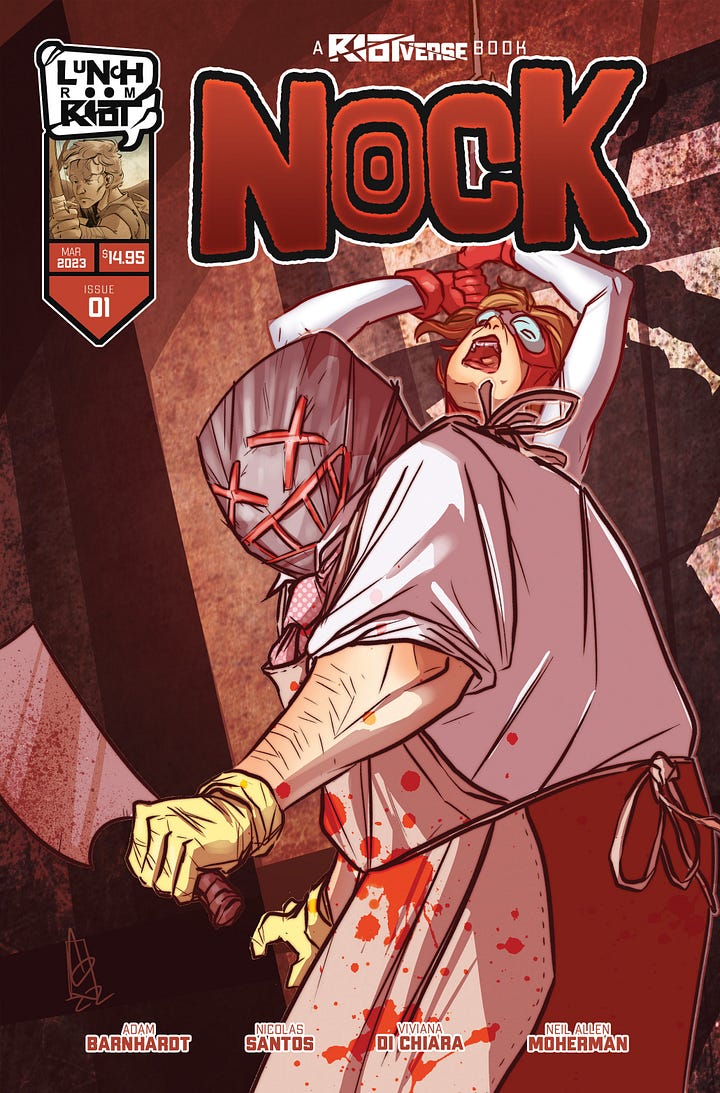 ---
Other than that, it's busy as ever in RiotLand. If you were one of those to sign up for our Christmas card this year, be on the lookout for yours to arrive at some point this week or next!